PREVIOUS STEAMAHEAD EVENTS
DR. TESS CASWELL SHOOTS FOR THE MOON
Recently, Upper School students enjoyed a conversation with engineer, planetary scientist, and simulation astronaut, Dr. Tess Caswell. Dr. Caswell is also a member of the Sacred Heart Greenwich STEAM advisory board, which supports the School's partnership with IBM and NASA. This program implements NASA curriculum at all grade levels and provides career leadership and guidance for students interested in STEAM careers. 
In addition to sharing her path towards the stars, Dr. Caswell spoke with students about NASA's Artemis Program. "I am part of the Artemis generation. You are part of the Artemis generation. But what is it?"
Artemis is a NASA mission to land the first woman and person of color on the moon. It is intended to be a long-term commitment to lunar exploration that will benefit science research and create a more inclusive core of astronauts. The next Artemis missions are heading to the moon's south pole, near the famous Shackleton Craters. Portions of this surface have never glimpsed sunlight, and the ice within these craters may contain the ingredients necessary to support a future lunar base. These bases could position astronauts to take the next giant leap for mankind: sending humans to Mars. 
Currently, Dr. Caswell works for NASA as a spacewalk operations engineer, training astronauts to do spacewalks and script the actual spacewalks that happen at the International Space Station. Prior to this, Dr. Caswell worked in Launch Control, at the private aerospace company Blue Origin, and in Mission Control at the International Space Station. "I'm here to tell you how cool space is," began Dr. Caswell. "I've had a passion for human space exploration since I was a child and begged my parents to send me to space camp."
"Dr. Caswell's presentation gave us a great example of the amazing capabilities and ingenuity of humans, only our imagination is the constraint of what we can achieve. This gives us hope that we can also solve the current problems on planet Earth!" writes Ana Nystedt, Upper School Computer Science teacher and Coordinator of the IBM Mentorship Program. 
Watch Dr. Caswell's presentation here! 
DR. NANCY GRECO FOR INSPIRING THE NEXT GENERATION OF SCIENTISTS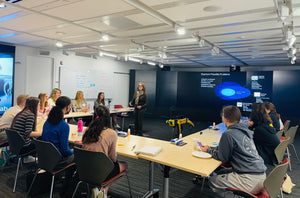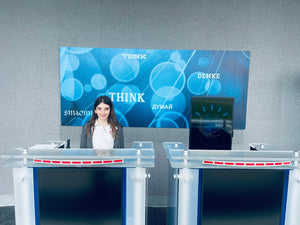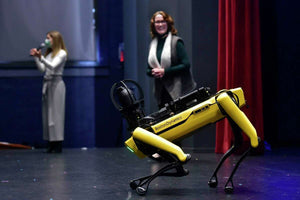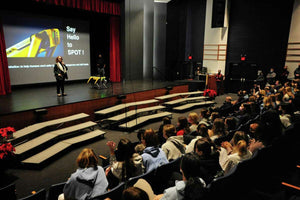 Legendary Astronaut Peggy Whitson Inspires The Next Generation Of Space Explorers
AUSTRONAUT DR. PEGGY WHITSON DISTANCE LEARNING EVENT
SCHOOL TRADITIONS CONTINUE VIRTUALLY AT DISTANCE
By Leah Allen -- This article originally appeared on the King Street Chronicle, the student-run Upper School newspaper.
Dr. Peggy Whitson, an astronaut who worked for the National Aeronautics and Space Administration (NASA) until June 2018, visited a Sacred Heart Greenwich Broadcast Journalism virtual class April 1. Dr. Whitson holds the United States record for the most cumulative days spent in space, and she offered advice to students who are transitioning to distance-learning during the coronavirus (COVID-19) pandemic.
During her visit to the Broadcast Journalism class, Dr. Whitson answered questions about how she dealt with isolation while in space. She stressed the importance of maintaining a big-picture mindset when facing challenges.
"Remembering the big picture can help you overcome some of your obstacles in day to day life," Dr. Whitson said. "I think for us now in isolation, we have to come to grips with the fact that it's not the same. I think the bigger picture is that we are saving lives by this isolation, which should give us the motivation and incentive to continue."
As an astronaut, Dr. Whitson completed a total of ten space walks, setting the record for the most spacewalks completed by a woman, and spent a total of 665 days in space. During her first trip to the International Space Station in 2002, Dr. Whitson conducted 21 science investigations and became NASA's first Space Station Science Officer. n 2008, she became the first female astronaut to be named commander of the International Space Station, according to nasa.gov.
Dr. Whitson also visited Sacred Heart October 29, 2018. During her previous visit, she participated in the reopening of the newly-renovated Mary Aloysia Hardey RSCJ Observatory and spoke to students and faculty at an all-school assembly about her personal experiences in space exploration.
During her virtual visit, Dr. Whitson explained that while she was in space, it was important for her to find a higher purpose or goal for each day. She believes that students should strive to do the same on a smaller scale.
"Maybe your higher purpose for today is to clean the closet, or get some particular school assignment done," Dr. Whitson said. "These are the things that you kind of have to do on a day to day basis to incentivize each day and make it worthwhile."
Lastly, Dr. Whitson shared that isolation and social distancing never hindered her ability to connect and collaborate with her peers. She encouraged students to continue to find ways to connect with one another.
"[In space], collaborating with my peers and being a part of a team was very important to me," Dr. Whitson said. "It really made me feel very satisfied with my work because the work was then bigger than me, it was about all of us working together. You can still do this even though you're isolated. Make phone calls, talk over email, text your friends. You can still make valuable connections even at a distance."
AUSTRONAUT DR. PEGGY WHITSON EVENT
Astronaut Dr. Peggy Whitson visited King Street on Monday, October 29, to serve as the School's scientist-in-residence for a full day of remarks, conversations, visits, and tours with our Barat Center through twelfth-grade students and faculty. A true pioneer, Dr. Whitson holds the record for most days spent in space by a NASA astronaut. Plus, she has participated in ten career spacewalks and was the first female commander of the International Space Station.
Piper Van Wagenen '20, granddaughter of Neil Armstrong, introduced Dr. Whitson before she addressed the entire student body during the school day, giving students time to ask questions about her career as well as the intricacies of living in space. Dr. Whitson then visited the Mother Aloysia Hardey, RSCJ Observatory to help reopen the space and debut the new telescopes and stopped by the Makerspace to meet with the Middle School Robotics team.
Students from the broadcast journalism show "Today from the Heart", the King Street Chronicle, and the Tiger Times all interviewed Dr. Whitson for their respective publications.
Also on campus for the event was anchor and reporter Kate Snow and the crew from NBC Nightly News. In addition to getting to watch their reporting in action, broadcast journalism students had the opportunity to interview Ms. Snow about her illustrious career.
The partnership with IBM and NASA extends beyond the Sacred Heart Greenwich campus too. The Mother Aloysia Hardey, RSCJ Observatory facility and astronomy curriculum will be available to the entire Network of Sacred Heart schools through Network Exchange and the School's proprietary online learning program SophieConnect. SophieConnect extends the academic reach of the School to give students access to digital courses in a wide variety of subjects taught by teachers at other Sacred Heart Network Schools.
Additionally, the Summer Outreach program, a five-week academic enrichment, and leadership program attended by 260 boys and girls from 28 public schools in Fairfield and Westchester counties, will also use the Observatory facility. The students, in grades 2-8, are academically qualified and most qualify for Federal Free/Reduced Price Lunch.