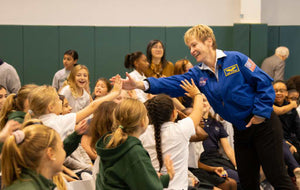 SCIENCE | TECHNOLOGY | ENGINEERING | ARTS | TECHNOLOGY
An IBM and NASA partnership.
Empowering innovation through education.

IBM & NASA PARTNERSHIP
Sacred Heart Greenwich partnered with IBM and NASA starting in June 2018 to fund research-grade equipment upgrades to the Mother Aloysia Hardey, RSCJ Observatory, to implement NASA curriculum at all grade levels, and to gain access to career leadership and guidance for students interested in STEAM. Students will participate in an IBM-led contest to express "What can we learn from the universe?" and continually have inspiring and engaging role models from STEAM fields as guest speakers. The partnership with IBM and NASA aims to develop a global pipeline to help girls of all ages become more engaged with STEAM today and into their careers.
Sacred Heart Greenwich, IBM and NASA have partnered on a pilot program to incorporate best teaching practices for STEAM to best prepare students for the fast-paced environment in emerging fields around science and technology. This pilot program will be a model that any school, anywhere can adopt and Sacred Heart will share what they have learned.
In celebration of the partnership with IBM and NASA, Sacred Heart Greenwich played host to a "Star-Studden Conversation" in October 2018, moderated by STEAM Advisory Board co-chair and IBM Director of Research Nancy Greco with astronaut Dr. Peggy Whitson, Blue Origin's Dr. Tess Caswell, Dan Barstow from the International Space Station, and Mary Musalino from Sacred Heart Greenwich.